Just a short drive or train ride away from downtown Chicago, Oak Park Illinois is a quaint town that was once home to Ernest Hemingway and Frank Lloyd Wright and still pays homage to each of their work.
1. Eat Breakfast
Whether you're looking for a full-on breakfast or a quick bite, Oak Park has a spot for you. If you start out on Oak Park Ave and Lake Street you'll have many choices. Try Red Hen Bread for coffee, pastries, croissants and more baked fresh daily. You can always grab a muffin or brownie for later too. If you're looking for a full breakfast, head down Lake Street west to Delia's Kitchen at 1034 Lake Street. Their menu is so good it's awfully hard to pick just one item. I would highly recommend the Vegetarian Benedict. Two perfectly poached eggs atop potato pancakes covered with spinach, sauteed mushrooms and their own house-made hollandaise sauce. Delicious!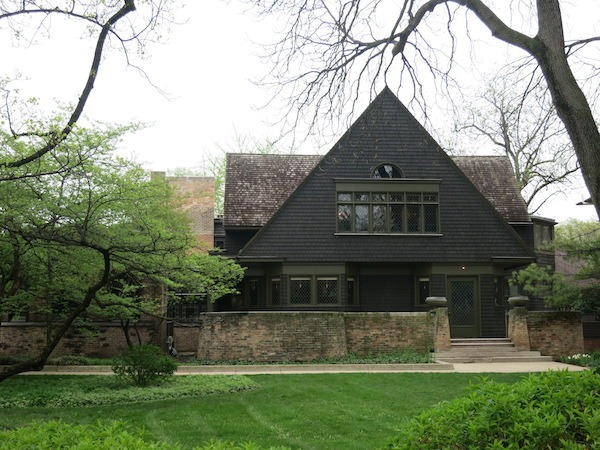 (Frank Lloyd Wright House in Oak Park)
2. Visit Ernest Hemingway's Home and Museum, 200 North Oak Park Avenue
If you love Hemingway you'll want to tour Hemingway's Home and Museum, his birthplace home. Be sure to check hours as they are a bit tricky. Right down the street is the Hemingway Museum, which is the home of rare photos and artifacts including the infamous letter from nurse Agnes von Kurowshy, which was portrayed in A Farewell to Arms terminating their engagement.
3. Visit Frank Lloyd's Home and Studio, 951 Chicago Avenue
The Frank Lloyd Wright Home and Studio with over 20 Frank Lloyd Houses in town this is probably the most popular stop in Oak Park and a must see for FLW fans. This important landmark was built for his family and his studio. The guided tours by trained docents provide great insight into Wright's design concepts and architectural philosophy. If you have the time spring for the advanced tour (1 hour and 30 minutes) it's well worth the $25 and you get to see the studio as well as the house. If you're really ambitious take the in-depth tour which includes a walking tour through the neighborhood including the Unity Temple. If you want to go it on your own it's easy enough there are plenty of walking maps and tours available. They sell maps at the gift shop in the home and studio as well. One tip if you plan to take photos on the house tour it's an additional $5. Keep in mind that all the funds go FLW Foundation which keeps up all FLW properties. Which you will learn is quite an accomplishment.
4. Stroll Down Lake Street
Lake Street runs through "downtown" Oak Park. Oak Park is a very walkable area. You can start out at Hemingway's House, wander down Lake Street, and then head over to FLW's home. If you walk down the side streets you'll be treated to more of FLW's designs. Pick up a map of all the FLW homes at the house or grab an audio tour to get all the history about the area and the FLW homes.
5. Eat Lunch
There are so many choices it's wonderful! Just in the few blocks on Lake Street you can choose from Mediterranean, Italian, Indian, Greek, Venezuelan, Chinese and more. Here are some of our favorites: Jerusalem Cafe for terrific chicken or beef shawarma, kabobs, and falafel. Marion Street Cheese Market for great sandwiches and salads, and you just have to stroll through market or perhaps pick a few items for a picnic. Poor Phil's at 139 South Marion Street for a tasty burger with crisp tater tots and a beer. Try the Da'Bomb burger with cheddar, bacon, mushrooms, lettuce, tomato and grilled onions. If you haven't had the chance to eat the obligatory Chicago pizza, there's a Lou Malnati's on Lake Street where you can get their famous deep dish pizza or tasty thin crust. To get the true Chicago experience make sure you get the butter crust.
6. Visit Austin Gardens Park
Just a few blocks from Frank Lloyd Wright's Home and Studio is the Austin Gardens Park. This little park is a quiet sanctuary. Grab a book or your lunch and take a relaxing rest under a tree. You'll find that you leave city bustle and your worries very far behind.
7. Eat Petersen's Ice Cream
All this walking and relaxing makes me want ice cream. Two blocks from FLW's home is Petersen's Old Fashioned Ice Cream. While you're deciding what flavor you want check out the old photos of their humble beginnings. This fabulous ice cream shop was started in 1919 by Hans Petersen, who brought his 18% butterfat ice cream recipe from Denmark. They've been serving it up ever since.
8. Shop
You'll find enough restaurants, candy shops, bookstores, clothing boutiques, gift shops and more to keep you busy for several hours. Be sure to swing down Marion Street. You won't want to miss the little shops there too. One of our favorites to stop and relax at is Serenitea Tea House at 1046 Pleasant Avenue, just off Marion Street. Stop in for afternoon tea and tell Tracy we sent you.
9. Watch A Movie
One of the things that always attracts me to small towns is the theater on "Main Street," and Oak Park has one that is really special. The Lake Theater is a true classic whose original facade still remains intact. The inside has been renovated to be clean and comfortable with large comfy seats but they've maintained the art deco splendor throughout the theaters. First run movies play from late morning to late evening with lots of matinees at discount prices.
10. Eat Dinner
Hemmingway's Bistro at 211 North Oak Park Avenue across from the Hemingway Museum is open breakfast, lunch and dinner. We love to drop in for the herb-crusted whitefish or mussels and pâté for dinner. They have all the French bistro classics like Coq au Vin, Bouillabaisse and Beef Wellington. It's a small bistro with a nice wine list. It's so comfortable you'll find yourself not wanting to leave and daydreaming of Hemingway ordering another round. They also offer a nice live jazz brunch on Sundays and daily specials.
Another great spot is Barclay's American Grill located in the The Carleton of Oak Park Hotel. It's another spot for terrific food in a relaxed and friendly atmosphere. I'm a huge fan of their burgers and shaved prime rib sandwich. They also have some delicious sides, like truffled mac & cheese, caramelized Brussels sprouts with onions & bacon, and "loaded" tots with cheese, bacon & sour cream. They have a wide menu to choose from that includes many delicious options and a full bar. They have different drink & food specials every night as well.
Maya del Sol offers Latin fusion cuisine 144 South Oak Park Avenue. This place is always full and always rocking. Live music makes the place a little loud but it's a fun and festive vibe. They also have a large outdoor patio to enjoy in the warm months that is perfect for cocktails and appetizers too. You'll find lots of Latin flavors including ceviches, ropa vieja, carne asada, portobello tostadas and fish tacos as well as non-Latin tastes such as Wagyu cheeseburgers and sweet potato fries!